Carmen J. Verderosa died Tuesday, February 2, 2021, at Hunterdon Medical Center in Raritan Township. He was 54.
Born in Belleville, he was raised in North Brunswick and lived in Franklin Park before moving to Lebanon three years ago. He was an audio engineer and owner of Woodrock Studios in Raritan Borough. Carmen was an avid music lover that loved working at his studio and making everyone feel welcome. Most importantly he was a strong advocate for the music scene and supported all the musicians who came there.
Music Producer Carmen Verderosa Celebrated in WDVR-FM Radio Show
Carmen Verderosa of Woodrock Studios will be remembered in a radio broadcast on April 21 to air on WDVR-FM 89.7 hosted by DJ Andy Kin.
RARITAN, N.J., April 8, 2021: Musicians representing 15 acts from New Jersey will perform in a tribute radio broadcast on April 21 to honor Carmen Verderosa, an accomplished sound engineer, music producer and owner of Woodrock Studios LLC. Verderosa of Lebanon, N.J. was 54 years old when he passed away from Covid-19 in February.
The show will broadcast on WDVR-FM 89.7 hosted by DJ Andy Kin from 6-8 p.m. on April 21 and will stream on www.wdvrvolunteers.org/live.
The tribute will feature original songs written and produced by Verderosa, and performances by several of the bands he loved representing a range of music genres including solo acoustic, R&B, metal and rock. Band members and Verderosa's wife Kathy Pettigrew Krautsieder will add their personal stories about his humor, and the creativity and dedication he brought to every recording session.
Scheduled performers include: A Halo Called Fred, Adam AJ Poland, Burning Red Sun, Garden State Groove, Dave Gibson, Donald Guillaume (former drummer for The Fugees), GoodWorks, Jeff Webb, Jenny Cat, John Berger, P. Fasset, Section 8, Take 5 Band, The Antics, The Big Fuss, The Professors, and Replicant.
A strong advocate for the local music scene, family, friends, and the community remember Verderosa for his talent, generosity and "corny jokes."
"Carmen and Kathy made you feel like you were part of their family. Nothing was too much trouble, expert attention to our musical needs and most of all the warmth as we walked through those magical studio doors," said Annie Haslam from Renaissance. "And the laughter! Some of his jokes were funny, most weren't, but the way he told them made them so! He loved life, Kathy, music and all who graced his studios with a passion! A good soul."
Donald Guillaume (former drummer for the Fugees) said, "One of the songs I recorded at Woodrock called 'Warmup' is with 12-year-old Lil Asmar. Carmen was a joy to work with on this project, and all the other projects that we've worked on together. Will truly miss him."
In a March 8 press conference, New Jersey Governor Phil Murphy honored Verderosa, "We remember Carmen Verderosa. Music was his passion and his vocation. He was a huge supporter of local music, welcoming every musician into his studio."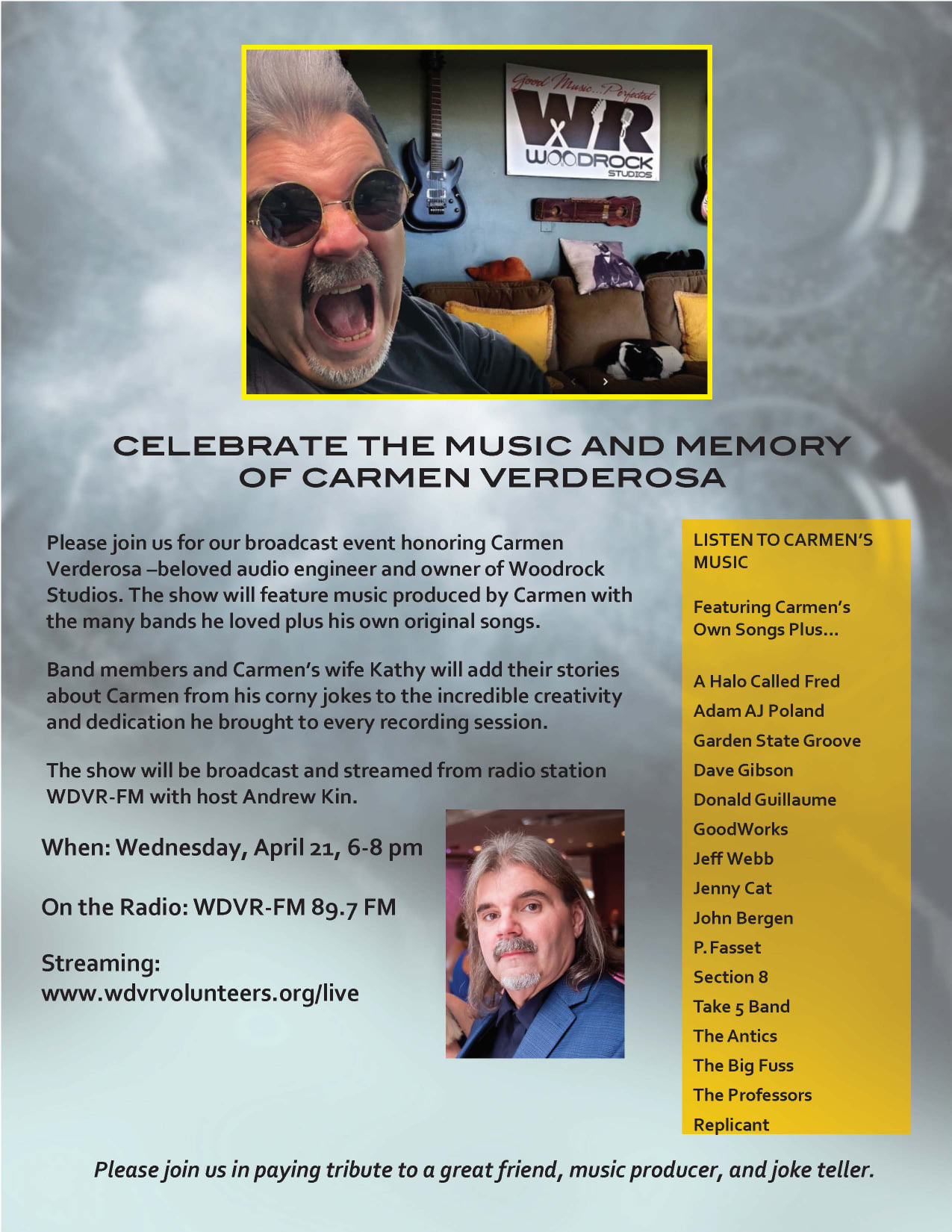 Listen to the Radio Tribute to Carmen here
This page last updated September 30, 2021 by Gary Radford.
Many thanks to Kurt Wagner, Marie Radford, and Jon Oliver.