CUTTER'S BAR
The Annual St Polycarp Celebrations, Morristown, NJ, February 22, 2003
| Back to Main Page | Back to Gigs and History 2000-2003 Page |
---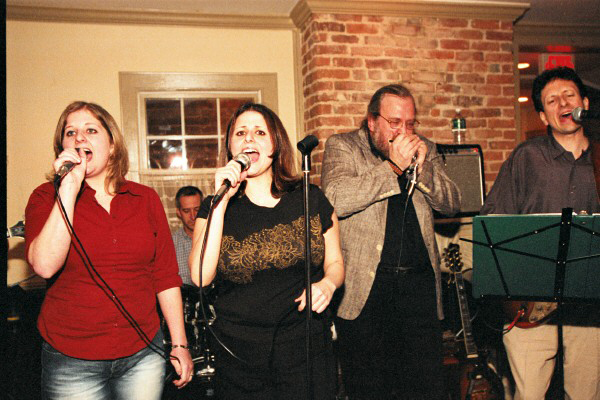 THE PROFESSORS
Chad Dell - Guitar/Lead Vocals
David McCurry - Harp
Jonathan Millen - Drums
Gary Radford - Guitar
Nick Romanenko - Bass Guitar
GUEST ARTISTS
Aylin Solu - Vocals
Nilya Solu - Vocals


A YouTube Playlist of 21 performances from the show.
This playlist includes 21 separate videos. You can select a particular song by clicking the "Next" button.
SET ONE
Runnin' Blue (Boz Scaggs)
Come on in my Kitchen (Robert Johnson)
Dead Flowers (Mick Jagger/Keith Richards - The Rolling Stones)
Let the Good Times Roll (Fleecie Moore/Sam Theard)
Mustang Sally (Wilson Pickett)
I'm a Believer (The Monkees)
She Loves Me (Not) (Chad Dell)
Aint That Peculiar (Smokey Robinson/W. Moore/M. Tarplin/R. Rogers)
I'll Cry Instead (John Lennon/Paul McCartney)
Complicated Shadows (Elvis Costello)
SET TWO
First I Look at the Purse (Robert Rogers/Smokey Robinson)
Homework (Otis Rush)
Further on up the Road (Joe Medwich Veasey/Don D. Robey - Eric Clapton)
Secret Agent Man (Sloane/Barry - Johnny Rivers)
Ziggy Stardust (David Bowie)
King for a Day (Chad Dell)
Nothing to Do With You (Chad Dell/John Barrows)
Sick of Goodbyes (David Lowery/Mark Linkous - Sparklehorse)
The Look of Love (Burt Bacharach/Hal David)
I Hate My Frickin' ISP (Todd Rundgren)
(Nobody Likes) Happy Songs (John Barrows/Gary Radford)
Untenured Blues (Gary Radford/Marie Radford)
You Don't Love Me (Willie Cobbs - The Allman Brothers)
Bitch (Mick Jagger/Keith Richards - The Rolling Stones)
All Right Now (Andy Fraser/Paul Rodgers)
This page last updated August 14, 2013 by Gary Radford.
Many thanks to Kurt Wagner, Marie Radford, and Jon Oliver.