THE BOTTLE HILL PUB
The Student Center, Fairleigh Dickinson University, Madison, NJ, May 4, 2007
| Back to Main Page | Back to Gigs and History 2007-2008 Page |
---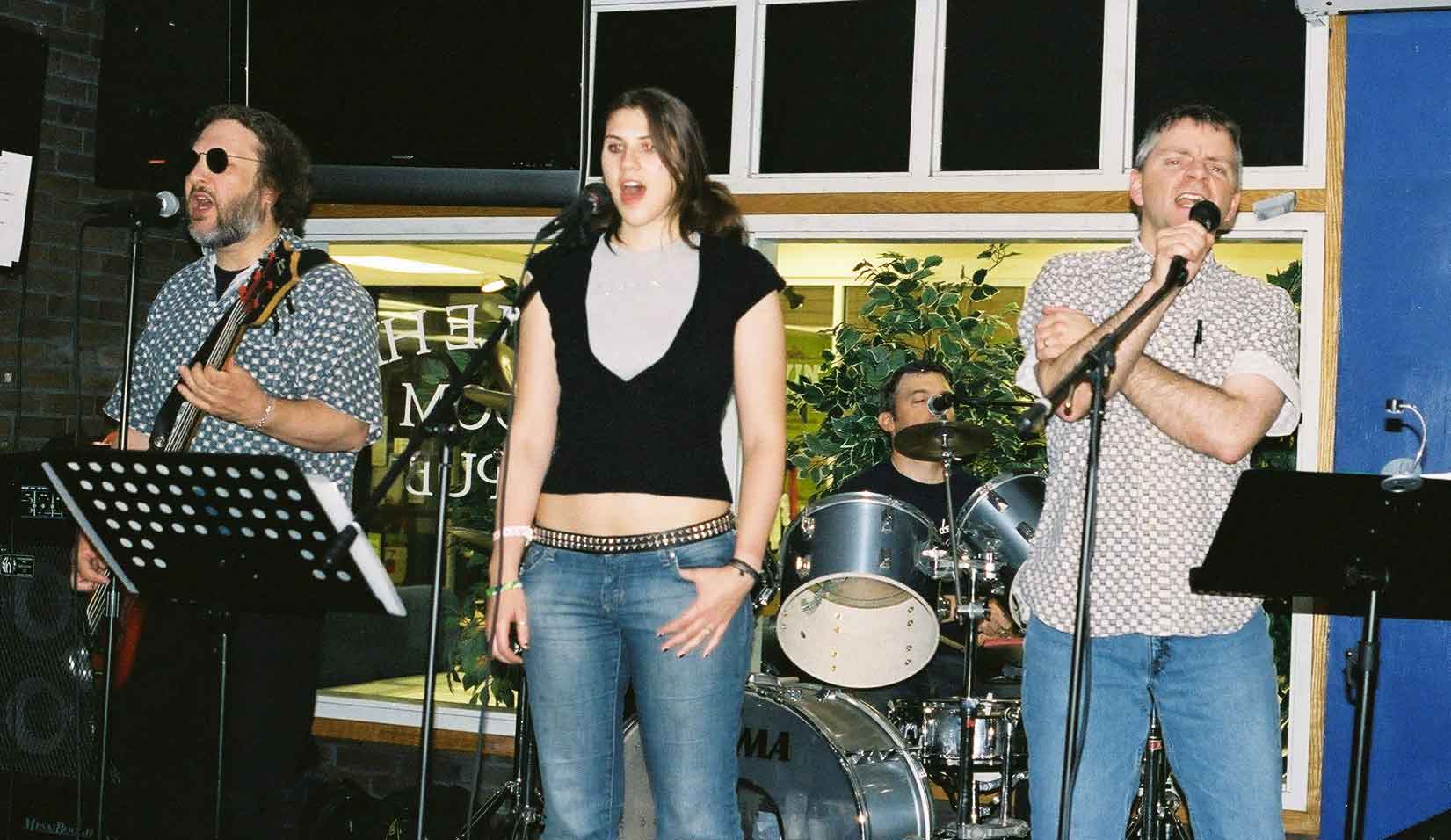 Photographs by Martin Griffin
The Professors perform an electric two-set show for the graduating communication students at Fairleigh Dickinson University.
THE PROFESSORS
Chris Caldiero - Harp/Vocals
Meg Radford - Vocals
Gary Radford - Guitar/Vocals
Nick Romanenko - Bass Guitar/Vocals
Peter VanEmburg - Drums/Vocals
GUEST ARTISTS
Marie Radford - Keyboards
Kevin Wisch - vocals on "Bravado"
SET ONE
Teacher (Ian Anderson - Jethro Tull)
Childhood's End (David Gilmour)
Dancing Days (Jimmy Page/Robert Plant - Led Zeppelin)
Drive (Brandon Boyd/Alex Katunich/Michael Einziger - Incubus)
Sick of Goodbyes (David Lowery/Mark Linkous)
Spirit of the Age (Robert Calvert/Dave Brock - Hawkwind)
A Geek's Life (Peter VanEmburg/Gary Radford/Nick Romanenko)
Girlfriend in a Coma (Johnny Marr/Morrissey)
Ziggy Stardust (David Bowie)
Suffragette City (David Bowie)
Bravado (Neil Peart/Geddy Lee/Alex Lifeson - Rush)
Us and Them (Roger Waters/Richard Wright)
Brain Damage (Roger Waters)
Eclipse (Roger Waters)
We're an American Band (Don Brewer - Grand Funk Railroad) **
SET TWO
New World Man (Neil Peart/Geddy Lee/Alex Lifeson - Rush)
Over Now (Jerry Cantrell/Sean Kinney - Alice in Chains)
No Excuses (Jerry Cantrell - Alice in Chains)
Have a Cigar (Roger Waters) **
Wish You Were Here (David Gilmour/Roger Waters)
Closer to the Heart (Geddy Lee/Alex Lifeson/Neil Peart/Peter Talbot)
Miss You (Mick Jagger/Keith Richards)
Peer Review (John Barrows/Gary Radford)
Shine on You Crazy Diamond (Roger Waters/David Gilmour/Richard Wright)
Big Me (Dave Grohl - Foo Fighters) **
It's Only Rock and Roll (But I Like it) (Mick Jagger/Keith Richards)
Pigs on the Wing (Part One) (Roger Waters)
Dogs (David Gilmour/Roger Waters)
Bitch (Mick Jagger/Keith Richards)
Long Train Runnin' (Tom Johnston - The Doobie Brothers) **
White Room (Pete Brown/Jack Bruce - Cream)
** = debut song
This page last updated January 26, 2014 by Gary Radford.
Many thanks to Kurt Wagner, Marie Radford, and Jon Oliver.