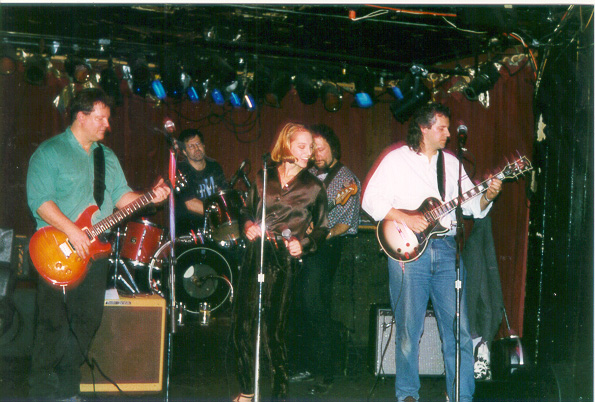 The Fall 1998 tour was completed with a triumphant return to Kenny's Castaways, New York City, on November 22, 1998. Never have the Professors played so rehearsed and tight a set and J gave the finest performance of her Professors' career. Following the Kenny's gig, J shocked the music world with her announcement that she would leave the Professors in order to finish her Ph. D. dissertation.
THE PROFESSORS
John Barrows - Harp/Guitar
Bob Kubey - Drums
J - Lead Vocals
Gary Radford - Lead Guitar
Nick Romanenko - Bass Guitar
Watch a YouTube Playlist of the entire show
THE SET
Before You Accuse Me (Eric McDaniel - Eric Clapton)
Dreading the Dawning (John Barrows/Gary Radford)
I'm From New Jersey (John Gorka)
Five Long Years (Eddie Boyd - Eric Clapton)
Treachery (Gary Radford/Marie Radford)
Weird Sisters (Mark Linkous - Sparklehorse)
You Oughta Know (Alanis Morissette)
Waiting for the Big One (Peter Gabriel)
Brainstorm (Nik Turner - Hawkwind)
Nothing (Tuli Kupferberg - The Fugs; arr. by Robert Kubey) **
** = debut song
THE FANS REACT!
Forget tweed and bowties - THESE PROFS REALLY ROCK. Last Sunday I had the good fortune to do a little extra-curricular rock and roll at Kenny's Castaways, courtesy of the areas most literate band, THE PROFESSORS. Comprised of five teachers, the band warmed up with a few 60's covers, and then began to let fly some of the most clever, cathartic and kick ass originals I've heard in a long time. The band serves it up tongue in cheek, with razor sharp wit, and chanteuse J has the uncanny ability to beguile an audience with warmth and humor, and then unleash her seductive voice like a striking panther. Be careful! She goes straight for the heart. When seeing the band, be sure to ask for "Nothing" and you'll get more than your moneys worth...bring "Kafka" they might critique it...bring "Transgressing Discourses" they might autograph it. Either way, you'll have one Foucault-ing good time. -- Jeffrey Meyer, William Paterson University, Wayne, New Jersey
Many attendees at the recent National Communication Association (NCA) conference sought out authentic New York experiences during their sojourn in the City, but only a few found their way to one of the coolest. The Professors, an eclectic and eccentric blues/rock combo made up of area academics, graced the conference with a late-night gig at Kenny's Castaways, a Bleecker Street, Greenwich Village, establishment with a long and colorful history. A handful of hipsters from NCA took advantage of this underground opportunity and were treated to a great show.
Singer J (Fairleigh Dickinson University) fairly stole the show with a stage presence that has matured substantially over the past year. From John Gorka's satirical mock-anthem "I'm From New Jersey" to an in-your-face cover of Alanis Morissette's "You Oughta Know," Jennifer fronted the band with energy, wit, and irony. An attitude was evident, bringing frequent grins to the faces of NCA'ers as well as the rest of the audience.
Guitarist Gary Radford (William Paterson University) and guitarist/harpist John Barrows (Rutgers University) lent color and variety to the band's diverse set list. Complementing The Professors' original numbers (Dreading the Dawning and Treachery) were covers from all over the musical map, from blues harp standards such as "Before You Accuse Me" to the obscure 70's psychedelia of the British rockers Hawkwind. Rhythm masters Nick Romanenko (bass, Rutgers University) and Bob Kubey (drums, Rutgers University) kept the energy level high, and Kubey closed the set by stepping out from behind his kit to front a bizarre stream-of- consciousness tribute to the Greenwich Village Fugs, an experimental 60's Bleecker Street band. Kubey's improvised references to Michel Foucault, Louis Althusser and other academic esoterics were a special treat for the NCA'ers in the house.
The Professors have been to known to pop up at other communication conferences, so it will be worth keeping an eye out for future appearances. They've grown a lot in the past year without losing that all-important garage quality, and the prospects are good for them to earn tenure on the Communication conference circuit. -- Bill Kinsella, Lewis and Clark College, Portand, Oregon
The Professors rocked at Kenny's!! With those powerful vocals, kickin' rhythm, and smokin' guitars, you guys got it right in the corner pocket -- Kathy Muldowney, New York City
We did see the Profs! [Gary Radford] is a fabulous guitar player. Since there have been a lot of guitar players in my family, I am speaking from experience - many listening years. I was quite impressed. -- Kathy Legg, Pratt Institute, New York City
Sunday, New York City. The Professors once again thrilled an enthusiastic and captivated audience at Kenny's Castaways with a searing display of musicianship. Mixing classic rock and blues numbers with the Professors' originals, the band fed off the energy of the crowd to produce a set that will be long remembered by all those who saw it. The synergy of the band members was clear to see, with Radford's intense lead guitar performance bringing out the best in dynamic lead singer, J. Kubey's percussion and Romanenko's bass provided a driving rhythm that kept the audience at fever pitch, and "Mississippi" John Barrows' blues harp gave the band's sound a compelling lyrical edge. Miss their next much-anticipated gig at your peril, pop pickers! -- Dennis Mumby, Purdue University, Indiana
The Professors' gig at Kenny's was the greatest rock show I've ever seen! Music has never touched me in quite this way and I felt 15 years younger. I am addicted to the spirit of the Professors. I hope I can hang on until the next gig! -- Kathy Muldowney (again!), New York City
---
This page last updated August 2, 2013 by Gary Radford.
Many thanks to Kurt Wagner, Marie Radford, and Jon Oliver.