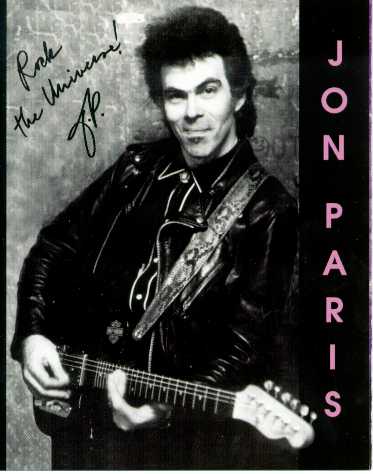 The Professors had the great privilege of playing with Jon Paris on two occasions: the March 8, 1997 gig at the School of Communication, Information, and Library Studies and the legendary September 12, 1997 gig at the Busch Campus Center, both at Rutgers University. Jon is a truly accomplished musician with a distinguished musical resume. It is hard to believe that the Professors have jammed with someone who has played with the likes of Johnny Winter, Ron Wood, and Bob Dylan! Jon's album Rock the Universe was released on the Fountainbleu label in 1995. Below are cited some of Jon's reviews. It makes us feel famous just to be associated with Jon! I wonder if Jon ever mentions to people that he's played with The Professors?! - GPR
For more information about Jon and the great musicians he has played with, check out his official website at http://www.jonparis.com.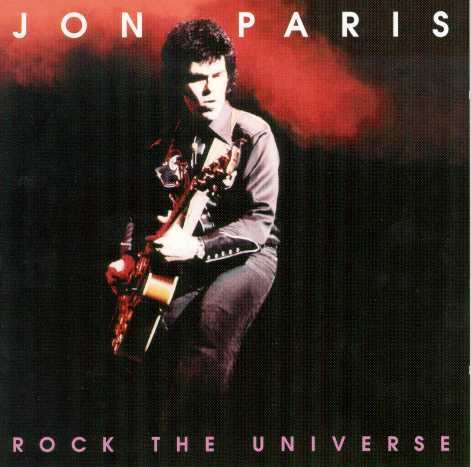 Guitar World, February 1996
By the time Jon Paris got around to releasing his first solo album, he had already toured around the world and spent quite a bit of time in the studio. As a bassist and harmonica player, Paris spent more than a decade performing and recording with blues rocker Johnny Winter. He has also recorded with the likes of Bob Dylan, Ron Wood, John Hiatt, Jimmy Cliff, and Peter Tosh.
Last June, Paris has finally stepped into the spotlight with the release of Rock the Universe (Fountainbleu). "I hope people get a chance to hear this," Paris says of his debut, which shows him leading his own band on guitar, vocals, and harmonica. "When you spend years playing behind other musicians, people don't realize that you have you're own trip."
Before releasing the album, Paris built a following for his solo act performing in New York clubs and opening up for such artists as George Thorogood, The Fabulous Thunderbirds, and Albert King. Rock the Universe shows Paris and his band playing energetic, high-strung blues, with guest performances by Johnny Johnson, The Uptown Horns, and drummer Anton Fig. "My feeling about music is that it's music," Paris says. "I wish there were no categories. If you had to categorize it, it's blues-rock. It's great to be compared to your idols."
True Blues, July 1996
What took him so long? Seasoned New York club legend Jon Paris finally goes solo with a seamless mix of eight original tracks soaked in the blues-rock tradition and four excellent covers given firece and fiery treatments. A veteran bass-and-harmonica-man who's worked with people like John Hiatt, Link Wray, Ron Wood, and most notably Johnny Winter, Paris proves an exciting frontman, with a great voice that's curiously smooth and biting at the same time. A varying line-up and top-flight session pals help him maintain a consistent intensity from track to track.
Anthems like "Born to Rock" and "Milwaukee Metal" steer clear of cliched FM hard-rock with the help of a genuine bluesy feel. Stand-out tracks include the slide-driven "Blues this Bad;" a boogie update on the Rolling Stones' chestnut "It's Not Easy;" the Chuck Berry instrumental "Deep Feeling" (with Berry's pianist Johnny Johnson); and Otis Rush's "Double Trouble" (with the Uptown Horns), featuring some fiery guitar work.
There's a sinewy purity to all this; it's rock n' blues without the bluster; power-packed chords without the posturing. This man deserves to be heard far and wide - Brendan Foreman.
Blues Review, December/January 1996
If anyone can rock the universe, it's Jon Paris. Best known as a sideman (notably with Johnny Winter, with whom Paris worked for over ten years), Paris has also led a first-rate trio for many years that is easily one of the most popular live blues-rock acts in New York City. His long awaited debut captures much of the energy and excitement of his live performances.
Paris' originals sound like old R&B standards that someone you've managed to miss for all these years. Did Paris really write "Born to Rock" and "So Much to Love" and "Lost in the Shuffle?" You bet he did.
The few covers are chosen with great care. The Chuck Berry instrumental "Deep Feeling" showcases Paris' excellent slide work, and is given the stamp of authenticity by Berry's pianist Jonnie Johnson, who also plays on the Paris original "Goin' Nowehere Fast." Another excellent choice of cover material is Itis Rush's "Double Trouble," a chance for some deep, true blues, and for Paris to show his fine vocal abilities, in addition to his extraordinary guitar and harp work.
Other guest artists lend their special touch to this release, notably the Uptown Horns, who make the rave-up "Rock-Rock-Roxanne" even punchier.
Clearly a lot of care has gone into this album, and it's easy to see why Paris has long been a favorite with New Yorkers. We've pretty much come to regard him as our own private property. But once word gets around about this album, I guess we're going to have to share him with the rest of you - Jennifer Zogon
This page last updated May 11, 2001 by Gary Radford.
Many thanks to Kurt Wagner, Marie Radford, and Jon Oliver.