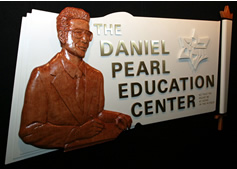 FROM THE DANIEL PEARL EDUCATION CENTER COMMITTEE
Amidst the energetic and fun music from two rock bands, AlterEgo and The Professors, the Daniel Pearl Education Center's annual Daniel Pearl World Music Days concert on Oct. 22 had a serious and somber side. For while the annual free concert is a celebration and a call to harmony through music, it is an inescapable fact that the concert exists because Daniel Pearl was murdered by extremists who didn't understand and probably never will understand his call for community and understanding around the world.
That was a message, delivered loud and clear, at the concert, attended by over 200 people. It came in the form of welcomes by DPEC chairman Andy Boyarsky, Rabbi Eric Milgrim, Cantor Kenneth Gould and in a message written for the occasion by Dr. Judea and Ruth Pearl, Daniel's parents. "We're hoping that out of evil can come some good ," Dr. Boyarsky told the audience. "Tonight we celebrate the joy brought to the world, in music, by Daniel Pearl." He then read the message from the Pearls:
We thank you all for being part of the 8th annual Daniel Pearl World Music Days and for dedicating your concert tonight in honor of our son, Daniel Pearl. We would have loved to be with you in person tonight, but circumstances dictate that we send you this blessing from a distance, although we are with you in spirit. Our deepest appreciation goes to the organizers of tonight's concert at the Daniel Pearl Education Center, and we especially want to thank AlterEgo and The Professors for taking part in this majestic event. Pablo Casals once said: 'Music must serve a purpose; it must be part of something larger than itself, a part of humanity.' The music that will emerge from East Brunswick tonight will serve a purpose -- for it will blend with the sounds of 1,526 other concerts in 75 countries, from Singapore to New York, Lahore to Los Angeles, which will be rining the earth this month for sanity and humanity, and empowering the resolve of open society to defend its spirit of humor, music, freedom and creativity.

As Aristotle said, 'The earth will ring!'

By dedicating your concert to Danny, you elevate your music from the acoustics of one concert hall onto the balcony of the 21st century and transform it into a potent statement of purpose, unity and empowerment. Your music will resonate today in sharp defiance of the forces of hatred that took our son's life, and will reinforce our unshaken conviction that, at the end of the day, music will triumph and humanity will prevail.

United, we will make a difference.
As with the DPEC's Brazilian jazz, classical and klezmer concerts in recent years, the bands donated their time to the cause, agreeing to be part of a DPEC tradition and part of a global music celebration. Daniel Pearl World Music Days was created in response to the 2002 kidnapping and murder of Wall Street Journal reporter Daniel Pearl at the hands of extremists in Karachi, Pakistan. Commemorating Danny's October 10 birthday (he was born in Princeton), World Music Days uses the universal language of music to encourage fellowship across cultures and build a platform of Harmony for Humanity.

Bands of MDs and PhDs set for Daniel Pearl event:
Free concert to honor slain Wall Street Journal reporter
EAST BRUNSWICK, Oct. 15 — It'll be a night of dueling doctors.
AlterEgo, a band of MDs from Robert Wood Johnson University Hospital, and The Professors, a band of PhDs from Rutgers University, will perform a free concert Oct. 22 as part of the Daniel Pearl World Music Days celebration at Temple B'nai Shalom, Fern Road.
The event, which will begin at 8 p.m., will mark the sixth straight year that the temple's Daniel Pearl Education Center committee has hosted a free concert as part of Daniel Pearl World Music Days, an international celebration of the life and work of Daniel Pearl, the Wall Street Journal reporter who was murdered by extremists while researching a story in Pakistan in 2002.
"This is always a very special and emotional night for us at the Daniel Pearl Education Center," said Dr. Andrew Boyarsky, chairman of the center's committee. "While we all love the joy that music provides and the way it brings people together for a concert, it is difficult for us to forget the tragedy of Daniel's violent death. He stood for community and understanding and, as an accomplished violinist, for bringing cultures and people together through music. We remember him and honor him on this night and join with musicians around the world in celebrating Daniel Pearl World Music Days."
This year's concert at the temple will have an added twist of a friendly rivalry between the two sets of doctors.
"I'm not sure where my allegiance will rest," Boyarsky said. "As a surgeon, I obviously have a rooting interest for the MDs. I'm also an associate professor of surgery, so I have a special place in my heart for the PhDs. This should be a lot of fun — great music for a great cause."
AlterEgo got its start in 1997 when nephrologist Andy Covit pulled together infectious disease specialist Rick Snepar, a gastroenterologist, a cardiac surgeon, and a biochemistry MD-PhD student to work on five songs that the band would play at the hospital's "Physicians and Their Art" night that fall. Today, the band — made up of Covit, Snepar, Elio Diaz, Pat Gainey, Lou Perillo, Phil Mach and Michael Sadowsky — perform regularly at live music bar venues throughout Central Jersey. The band's music covers all genres of rock 'n' roll, from the '50s through to the charts of today.
"We really get a kick out of playing a set with a great old Buffalo Springfield song followed immediately by a new one from the Kings of Leon," Covit says. "And though we play some of the typical bar band standards, we also love to surprise those listening with some of our more eclectic tunes from artists like Bob Marley, Guster or the Ides of March. It makes for a fun night for all and, in this case, an important and special night as well."
The Professors are a group of composing musicians who perform in the New York and New Jersey area. The band brings together sounds from a variety of styles to create original and interpretive music with ingredients drawn from the Chicago blues, British psychedelic rock and the classics. Band members are Peter VanEmburg, senior software engineer at Lockheed Martin, on drums; Meg Radford, sophomore pre-veterinary student at Rutgers, on guitar and vocals; Gary Radford, professor of communication studies at Fairleigh Dickinson University, on guitar; Marie Radford, associate professor of library and information science at Rutgers, on keyboards; and Nick Romanenko, staff photographer at Rutgers, on bass.
"It is an honor and a privilege for us to participate in this year's event," VanEmburg said. "The ability to transform a horrific tragedy into a celebration of life is one of the yardsticks of a truly progressive and civilized culture, and we are truly grateful to have the opportunity to contribute to that transformation process. Of course, we also relish the opportunity to perform and to rock the house."
The concert is free, and light refreshments will be served. For more information, call the Temple B'nai Shalom office at 732-251-4300.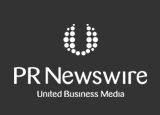 8th Annual Daniel Pearl World Music Days Commences With Warm Words of Greetings From President Obama
Itzhak Perlman, Herbie Hancock, Matisyahu, Ravi Shankar, Joshua Bell among the artists participating worldwide
LOS ANGELES, Oct. 1 /PRNewswire/ -- The 8th Annual Daniel Pearl World Music Days, a global network of concerts and performances from October 1-31 celebrating the power of music to bridge cultural and religious barriers, commenced today with warm words of greetings from President Obama.
This year musicians from every corner of the globe and every genre will once again unite in a global network of concerts promoting peace and understanding through music. More than 850 performances in 53 countries are already set to be dedicated in memory of Daniel Pearl, the Wall Street Journal reporter and musician kidnapped and murdered in Pakistan in 2002.
In his message the President stated that "Music has been called a universal language that transcends cultures and borders. Its power to move us, touch our hearts, and speak to our souls enriches our lives. Through artistic creativity and expression, music can build bridges between individuals and communities thousands of miles apart. This month-long event to celebrate music and honor the legacy of Daniel Pearl is a fitting tribute to a man who promoted respect and dialogue throughout the world. On this occasion, we recommit ourselves to tolerance, compassion, and 'Harmony for Humanity.'"
"We are deeply honored by President Obama's recognition of this month-long global network of concerts," stated Judea Pearl, President of the Daniel Pearl Foundation and the father of Daniel Pearl. "Danny was a passionate believer in the power of music to bring people together and transcends ethnic, religious or cultural differences. World Music Days is a tribute to this passion and a powerful instrument in our quest for a hate-free world. Its mission resonates with a broad spectrum of professional and amateur musicians on every continent, as well as youth and school groups.
A talented musician, Daniel Pearl connected to people through music in every country he visited, often joining local music groups and participating in impromptu jam sessions. World Music Days is designed to raise awareness and promote peace, tolerance and understanding of our shared humanity. There is no cost for any musician to participate; they simply sign up at www.danielpearlmusicdays.org and then dedicate a performance from the stage or in the program. Participants can add their bio, photos, videos and links in their Artist Page, which are viewed worldwide on this website.
Spanning across musical and geographic boundaries, World Music Days participants this year includes Honorary Committee members Herbie Hancock, Matisyahu, Ravi Shankar, Mark O'Connor and George Pehlivanian and artists as varied as The Royal Liverpool Philharmonic Orchestra, University of North Texas School of Music, Stanford University Music Department, Clubilya in association with the U.S. Embassy in Singapore, FODfest (Friends of Danny Festival) in 12 States and with the American Institute in Taiwan, The Los Angeles Master Chorale, the Hardly Strictly Bluegrass Festival and hundreds more.
"World Music Days' message, has clearly struck a chord," said Ruth Pearl, Daniel's mother. "Over and over we hear from artists -- many who participate year after year -- how the simple act of a spoken dedication empowers and inspires both the artist and audience with a sense of purpose and unity around our shared humanity."
Artists can also submit original compositions inspired by the legacy of Daniel Pearl to be considered for the eStage internet radio station available throughout October on the Foundation's Website: www.danielpearlmusicdays.org. eStage features original compositions, music by members of the World Music Days Honorary Committee, recordings from dedicated concerts, as well as themed broadcasts and tapes of Danny himself playing with numerous bands.
The Daniel Pearl Foundation works domestically and internationally to promote cross-cultural understanding, to counter cultural and religious hatred, to encourage responsible and creative journalism, and to unite people through music. For more information please visit www.danielpearl.org.

Since 2002, Daniel Pearl World Music Days has grown to include the participation of more than 3,100 performances in 85 countries. Daniel Pearl World Music Days was created in response to the 2002 kidnapping and murder of Wall Street Journal reporter Daniel Pearl at the hands of extremists in Karachi, Pakistan. Danny's family and friends came together to work towards a more humane world, forming the Daniel Pearl Foundation. The mission of the Foundation is to promote cross-cultural understanding through journalism, music, and innovative communications.

Danny was a talented musician who joined musical groups in every community in which he lived, leaving behind a long trail of musician-friends spanning the entire world. Commemorating Danny's October 10th birthday, World Music Days uses the universal language of music to encourage fellowship across cultures and build a platform for "Harmony for Humanity." The Daniel Pearl Foundation invites you to join us by dedicating your music performance this October as part of the 8th Annual Daniel Pearl World Music Days.
This page last updated January 26, 2014 by Gary Radford.
Many thanks to Kurt Wagner, Marie Radford, and Jon Oliver.