THE UNIVERSITY RELATIONS PICNIC
The Log Cabin, Cook Campus, Rutgers University, New Brunswick, NJ, June 4th, 1999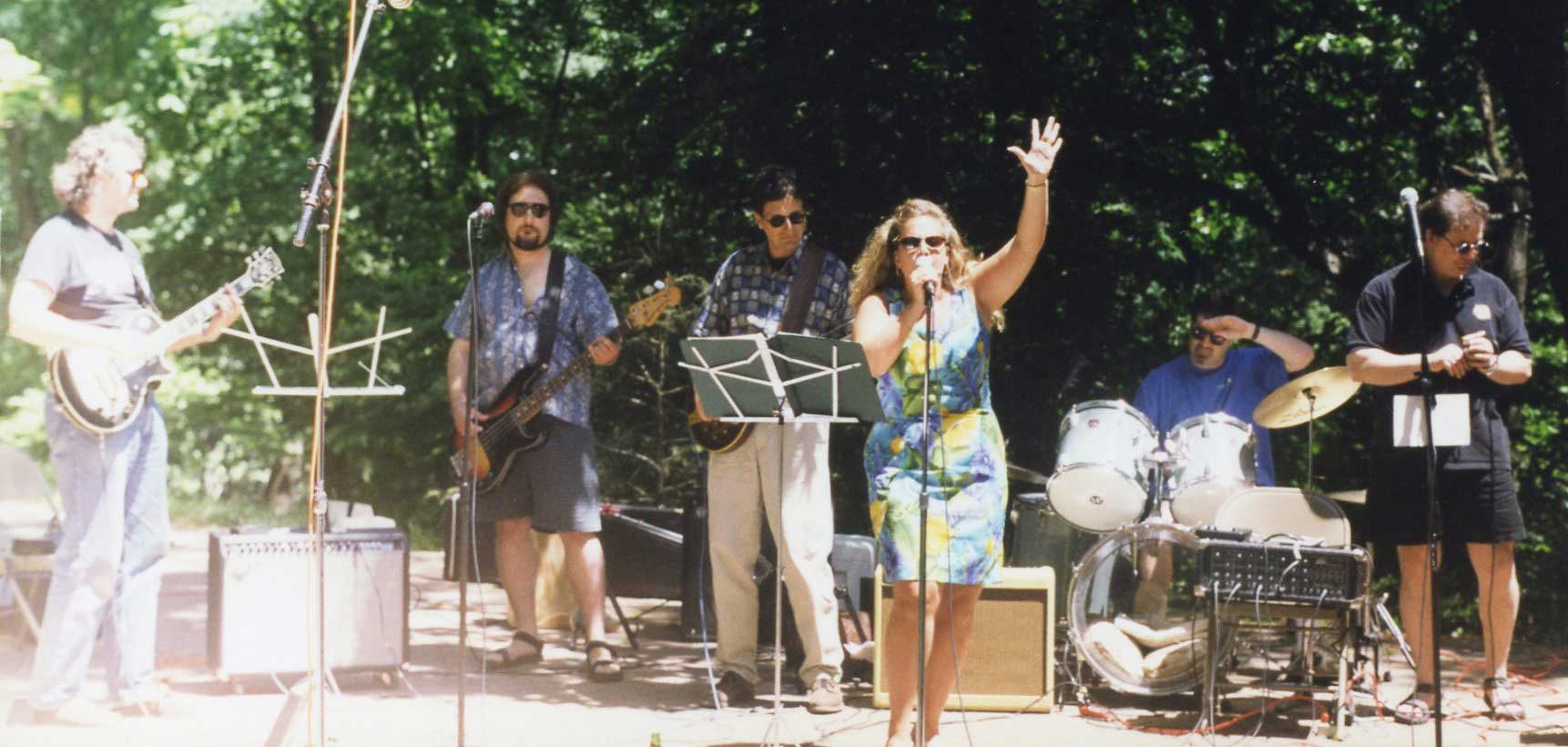 The Professors wrap up an amazing Spring 1999 tour with another outdoor gig at the University Relations picnic at Rutgers University.
THE PROFESSORS
John Barrows - Harp/Guitar/Vocals
Chad Dell - Guitar/Vocals
Bob Kubey - Drums
Gary Radford - Lead Guitar
Nick Romanenko - Bass Guitar
Sonja Souther - Lead Vocals
THE SET
You Don't Love Me (Willie Cobbs - The Allman Brothers)
Summertime (George Gershwin/DuBose Heyward)
Five Long Years (Eddie Boyd - Eric Clapton)
Eight Minutes (John Barrows/Mark Wallinger)
Before You Accuse Me (Eric McDaniel - Eric Clapton)
Dreading the Dawning (John Barrows/Gary Radford)
Take Sick and Die (Muddy Waters)
Nicky Land (Nick Romanenko/Sonja Souther)
Bitch (Mick Jagger/Keith Richards - The Rolling Stones)
Stormy Monday (T-Bone Walker - The Allman Brothers)
Waiting for the Big One (Peter Gabriel)
Bitch (Meredith Brooks)
New York City Sidewalk Blues (John Barrows)
In the Midnight Hour (Wilson Pickett/Steve Cropper)
Psi Power (Robert Calvert/Dave Brock - Hawklords)
Run Away With Me (John Barrows/Gary Radford)
This page last updated January 26, 2014 by Gary Radford.
Many thanks to Kurt Wagner, Marie Radford, and Jon Oliver.