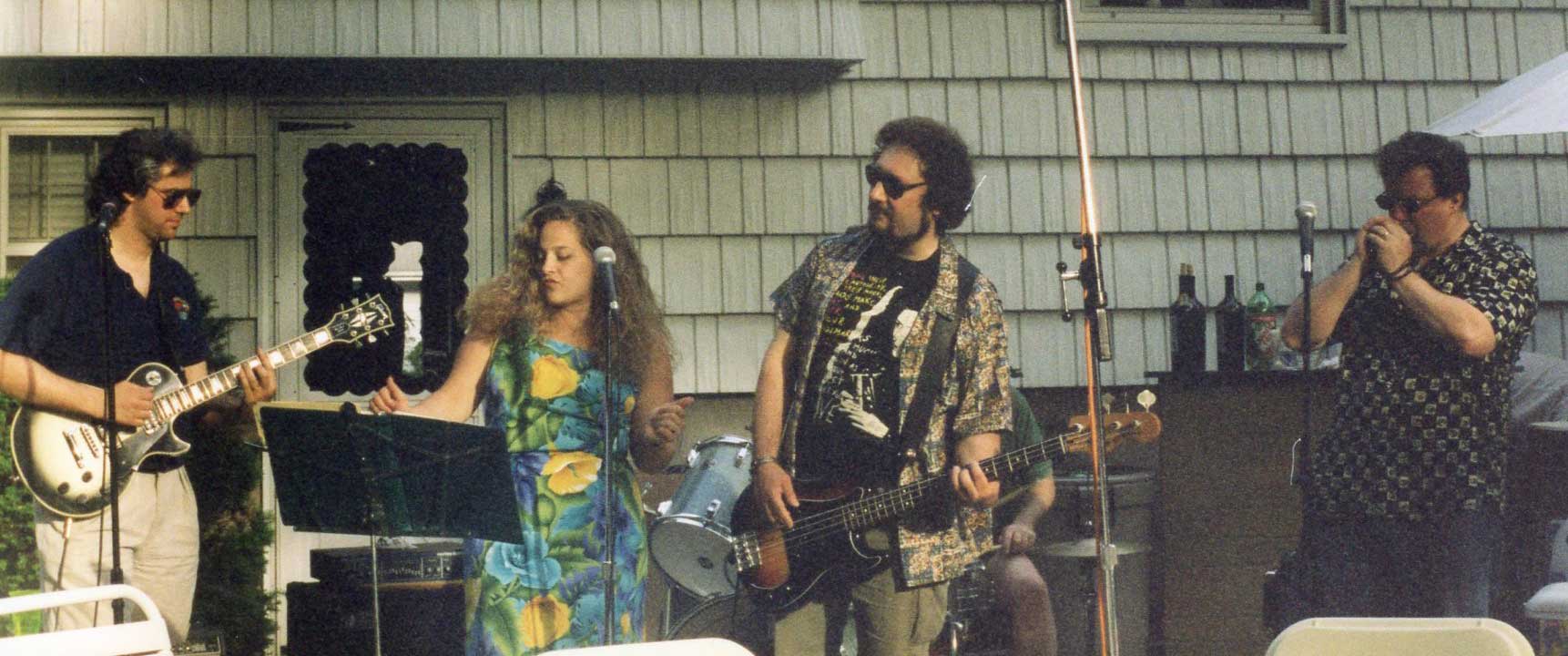 With new member Chad Dell absent due to his getting married to Eleanor Novek, the five-piece Professors unleashed their third 2-hour plus, 20 song plus set to an enthusiastic crowd at the home of Mark and Ann Smith in Wyckoff, New Jersey. Playing outside on a beautiful sunny, 80 degree Spring afternoon, the Professors thrilled the audience with the diversity of their music, ranging from the exquisite vocal stylings of Sonja Souther on Summertime and Stormy Monday, to the raunchy blues harmonica of John Barrows, the mood-filled exploration of Nick Romanenko's hypothalamus in Nicky Land, and the Professors' tribute to British rockers Hawkwind in Brainstorm, Spirit of the Age, and the recently added Psi Power. The May Bash also saw the premiere of Barrows' and Radford's tribute to T-ski: Hyatt Elevator or Gdansk for the Memory.
THE PROFESSORS
John Barrows - Harp/Guitar/Vocals
Bob Kubey - Drums
Gary Radford - Lead Guitar
Nick Romanenko - Bass Guitar
Sonja Souther - Lead Vocals
THE SET
Summertime (George Gershwin/DuBose Heyward)
I'm From New Jersey (John Gorka)
Five Long Years (Eddie Boyd - Eric Clapton)
Eight Minutes (John Barrows/Mark Wallinger)
Before You Accuse Me (Eric McDaniel - Eric Clapton)
Dreading the Dawning (John Barrows/Gary Radford)
Untenured Blues (Gary Radford/Marie Radford)
Weird Sisters (Mark Linkous - Sparklehorse)
Nicky Land (Nick Romanenko/Sonja Souther)
New York City Sidewalk Blues (John Barrows)
Spirit of the Age (Robert Calvert/Dave Brock - Hawkwind)
Take Sick and Die (Muddy Waters)
Sunday Night at Kenny's (John Barrows)
Run Away With Me (John Barrows/Gary Radford)
Stormy Monday (T-Bone Walker - The Allman Brothers)
Psi Power (Robert Calvert/Dave Brock - Hawklords)
Bitch (Meredith Brooks)
Chill Out (Things Gonna Change) (John Lee Hooker/Carlos Santana/Chester Thompson - arr. by Robert Kubey/Sonja Souther)
Nothing (Tuli Kupferberg - The Fugs; arr. by Robert Kubey)
Psycho Killer (David Byrne/Chris Frantz/Tina Weymouth - The Talking Heads)
Treachery (Gary Radford/Marie Radford)
Sway (Mick Jagger/Keith Richards - The Rolling Stones)
You Won't Hear This on the Hyatt Elevator (John Barrows/Gary Radford) **
Brainstorm (Nik Turner - Hawkwind)
** = debut song
This page last updated March 21, 2020 by Gary Radford.
Many thanks to Kurt Wagner, Marie Radford, and Jon Oliver.