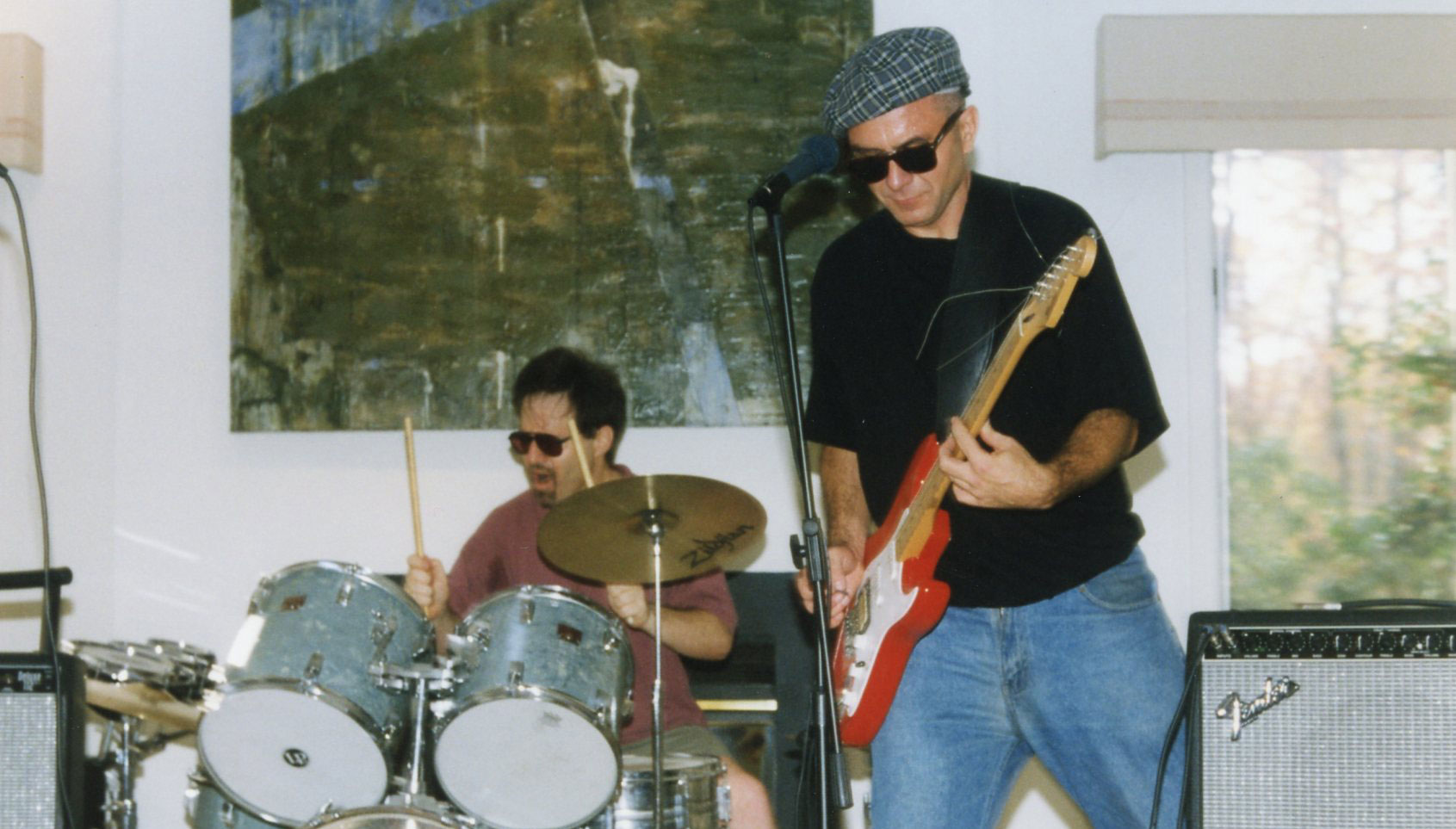 Photographs by Marie Radford
November 2, 1997, the Professors play the legendary Princeton Jam at T-ski's recently acquired mansion at Princeton, New Jersey. This five-hour non-stop jam session featured guest appearances by "Chicago" Craig Brown (drums), Nick Romanenko (bass), and James Jeude (guitar). Those fortunate to be invited to the Princeton Jam saw the premiere of "Tell Me No Lies," "The Party's Over," and "Mother" (all by T-ski) and the 3-part epic Treachery (by Radford/Radford). The overwhelming response of the stunned crowd was "you guys are way too loud!"
THE PROFESSORS
John Barrows - Harp/Rhythm Guitar
Stephen Cooper - Bass Guitar
T-ski - Lead Guitar
Robert Kubey - Drums
J - Lead Vocals
Gary Radford - Rhythm Guitar
GUEST ARTISTS
Nick Romanenko - Bass Guitar
Craig Brown - Drums
James Jeude - Guitar
THE SET
Tell Me No Lies (T-ski) **
Chill Out (Things Gonna Change) (John Lee Hooker/Carlos Santana/Chester Thompson) **
Romanenko's Jam (Nick Romanenko) **
Darker Side (Bruce McCabe - Johnny Lang) **
Dark and Stormy Day (T-ski/J)
Foucault Funk ( Michel Foucault/Gary Radford/Marie Radford)
Crap (T-ski)
Five Long Years (Eddie Boyd - Eric Clapton)
You Haven't Hurt Me (Joe Kubek - arr. T-ski/Jennifer Lehr)
Peter Gunn (Henry Mancini) **
The Party's Over (T-ski) **
Hey Joe (B. Roberts - Jimi Hendrix) **
Treachery (Gary Radford/Marie Radford) **
(I Can't Get No) Satisfaction (Mick Jagger/Keith Richards - The Rolling Stones) **
Mother (T-ski) **
** = debut song
This page last updated March 21, 2020, by Gary Radford.
Many thanks to Kurt Wagner, Marie Radford, and Jon Oliver.